Discover more from Push Button Heads: a Comic by Everett Wilson
My nerdy "Push Button Head" characters live in a near-futuristic society that may or may not be on your planet (you decide!). You'll catch them talking or acting at cross-purposes, and being too curious for their own good. I post a new comic each weekend.
The Waiting Room
A weekly comic featuring the whimsical and far-too-innocent Push Button Heads characters, written and illustrated by Everett Wilson. Enjoy!
I felt this week's comic didn't need a caption. I was trying to turn the idiom, "a disaster waiting to happen," into the biggest eye-roll of a joke. Did I succeed?
Thank you for reading my Push Button Heads comics! Knowing there are real people waiting each week for a new cartoon in their inbox keeps me motivated. (And if you're a paid supporter, please know that you're helping to pay off my Wacom drawing tablet. Thank you!) It would mean the world to me if you invited friends to subscribe.
Bonus Retake of the Roller Coaster Comic
A couple weeks ago, when I released my "Forgot the Map" cartoon, I shared a photo from my sketchbook to my paid subscribers showing an alternate storyline. Some of you commented that you liked this version better. It was more philosophical and not as nonsensical as the idea of someone wishing they had a map while riding on a roller coaster. So I decided to swap out the dialogue with the alternate version and share it as a finished comic with you below: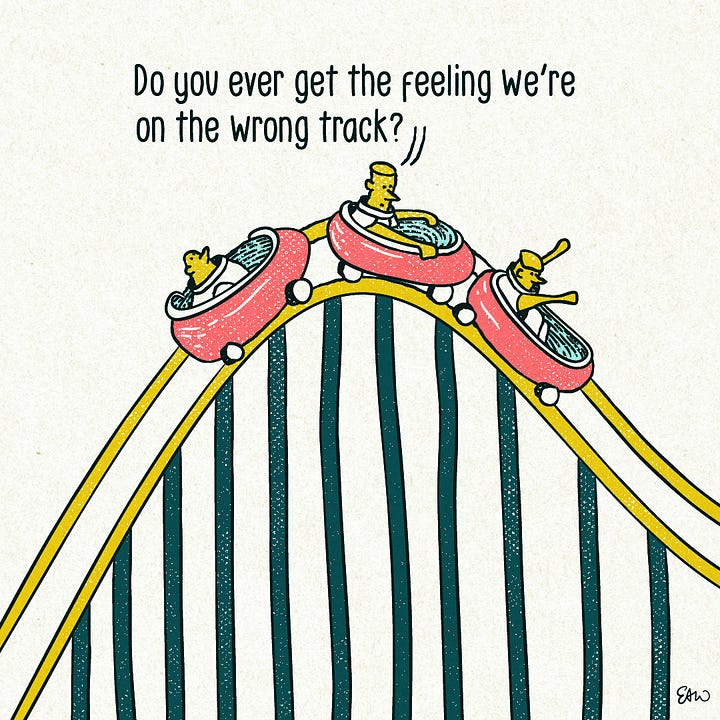 Push Button Heads: a Comic by Everett Wilson is a reader-supported publication. To receive new posts and support my work, consider becoming a free or paid subscriber.