Forgot the map!
A weekly comic featuring the whimsical and far-too-innocent Push Button Heads characters, written and illustrated by Everett Wilson. Enjoy!
Thanks for following! A vacation-themed comic this time!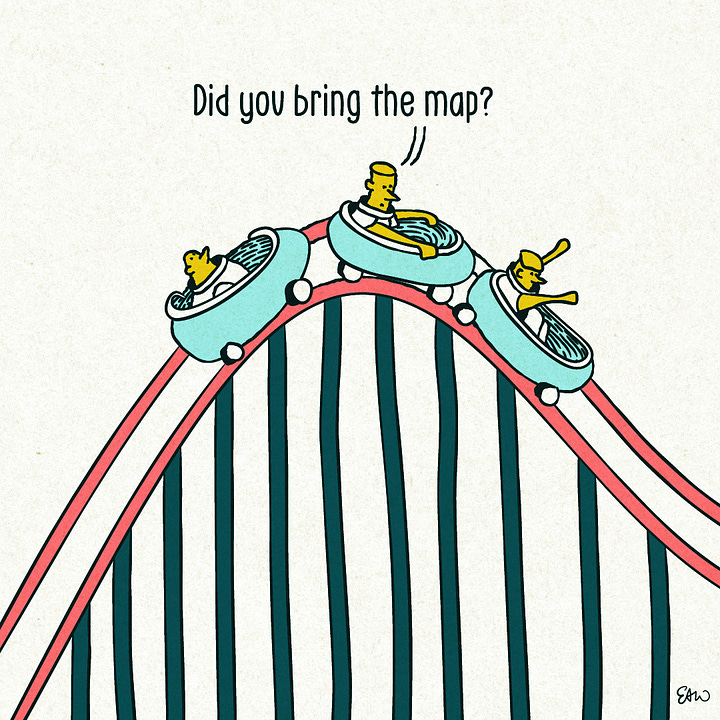 Paid Subscribers, Some Bonus Content Below!
Below I'm sharing the original sketch for this weekend's comic. I knew all-along that I wanted to make something work with a visual concept I couldn't get out of my head — of three friends on a roller coaster having some sort of absurd conversation as they move through the loops, twists, and turns. What didn't gel immediately this week was a suitable dialogue for the scene I wanted to build. You'll see that my first attempt waxed philosophical a bit. I wasn't sure if there was enough of a punchline, so I noodled some alternatives and eventually landed on the exchange you see above. Which do you prefer? Which made you smile the most? Please share your thoughts in the comments.
Keep reading with a 7-day free trial
Subscribe to Push Button Heads: a Comic by Everett Wilson to keep reading this post and get 7 days of free access to the full post archives.